How to Increase Ecommerce Sales: 7 Simplest Ways
Wilson • June 4, 2021
"Why is my ecommerce site not selling?"
"How to increase ecommerce sales?"
These are common problems that we hear many ecommerce website owners have.
We know how tough it can be, especially if you are new in the ecommerce business and you don't have a lot of traffic coming to your online store. Even if you have traffic, you might find that people are just not buying!
So today, we want to talk about 7 simple ways that will help you get more ecommerce sales, fast!
1. Do a website revamp if your website is outdated and not mobile friendly.
When was the last time you compared your website to the top competitors in your niche?
Related: 12 Best E-commerce Website Designs in Singapore 2021
Having an outdated ecommerce store that is slow and untrustworthy can harm your online sales. You don't want to give shoppers a bad first impression.
Make sure to update your online store to give them all the modern features people expect from an ecommerce website.
A lot of businesses are going mobile and making their sites mobile responsive for the customer. If your website is not mobile friendly, you can probably find some pretty interesting statistics about how much you're losing out on in sales.
If it's been a while since you've done any updates to your site, now may be the time to give it a go.
You can ask your developers to give your website a modern redesign. You can also work with web development agencies that pay attention to the latest ecommerce trends.
Related: Top 10 Ecommerce Trends in 2021 That Demand Your Attention
2. Add customer reviews and ratings to increase trust among potential customers
One of the easiest ways to get more people to shop on your website is to make them more comfortable about buying your products.
Adding customer reviews and ratings will increase trust among potential customers, which in turn will make it easier for you to sell more items!
It's consumer psychology to trust ratings and reviews when making a purchasing decision.
Make sure to take a look at how other ecommerce stores have managed their review-gathering – you might want to copy how they get their reviews.
If someone has made a purchase with your site before, they're more likely going to leave good feedback. You just need to ask!
It also gives them peace of mind knowing others share their opinions on certain topics like quality.
If you use Shopify or Woocommerce, you can easily add reviews and star ratings to your product pages.
3. Showcase your top selling items
This is a trick that many top ecommerce websites use to increase online sales.
Products that already sell well are more likely to appeal to newcomers, and lead to even more sales. Your top selling items are also more likely to have the most good reviews and ratings – further adding to the sales.
Use your homepage to showcase the top selling items on your site to quickly draw attention to best sellers.
It's an opportunity for new people visiting your website- who may not have seen your other pages yet- to find out about popular products.
You can add navigational links to pages that list 'Top Selling' products. You can also make sure that your product lists allow filters and sorting to sort Best Sellers on top.
4. Offer discounts, promotional items, or offer promo codes
Using discounts and promotions can be very effective in driving sales.
They're also a great way to keep people coming back and buying more.
A study by Retail Decisions found that "promotions increased purchase likelihood for shoppers making online purchases of apparel, accessories, shoes, and beauty items."
You could offer discounts on your site using coupons or promo codes. The customer needs to know about these in advance so it's important not only to make them available but also promote them!
There are many ways in which promotions can be used successfully- from free shipping days to buy one get one offers; just remember not to overuse them.
You need to find a suitable ecommerce promotion strategy. Read this to learn more.
5. Offer free shipping
This is another simple tip that can increase ecommerce sales.
Shipping costs can be a major factor for those people who are on the fence about making an online purchase.
A free shipping option should be offered to customers as much as possible, but only if you're confident that it won't put your business in danger of losing money
There have been studies to show that shoppers tended to abandon their shopping carts when they were presented with shipping rates.
Some case studies have shown that offering customers a "free delivery" option during checkout drives up conversion rate by 29%. Offer this as often as possible- and be sure to promote it too!
6. Offer more payment options
Does your online store offer payment options that your target audience are most likely to use?
The popular ones are of course, credit card payment and PayPal.
Accepting Mastercard or Visa is the most convenient way to pay for an online purchase; however, you should also offer other payment options like PayPal and Stripe.
One recently popular option is to instalment plans for expensive items. Also known as Buy-now-pay-later.
A popular Singapore provider is called Hoolah. They provide interest free 3 month instalment plans. This can be very attractive to shoppers who have tight budgets!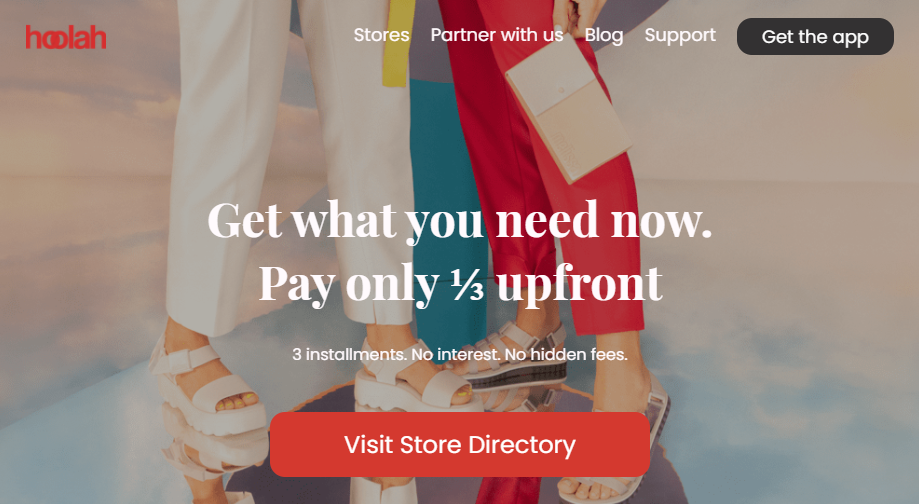 You can read our article about the best payment gateways for Singapore. Giving shoppers more options to make their payment can also help reduce the buying friction.
7. Simplify your checkout process
Lastly, you can easily increase sales revenue by simplifying your checkout process.
This will help to reduce abandonment rates and increase the conversion rate.
Therefore, make it easy for customers by removing any unnecessary steps in your checkout process or making them simpler.
For example you can offer a single-page purchase which doesn't require signing up first before listing out all of the different items they would like to buy.
This is also known as a guest checkout function.
Honestly, increasing ecommerce sales requires much more work than these 7 tips.
If you are still asking, 'how can I increase my online sales quickly?', we have some slight bad news.
To really see massive ecommerce sales increase:
You need to have a complete marketing strategy
You need to build your brand awareness
You need to provide excellent customer service and a good shopping experience
You need to build an email list and use email marketing to generate repeat sales
and much more.
You need to build customer loyalty
Conclusion
We've compiled this list of the easiest, fastest, and most effective strategies on how to increase sales on ecommerce stores.
If these tips don't seem like they would work for your business or if you have any questions about how we can help with this process, feel free to reach out to our digital strategists for help.
Have any of these ideas been applied on your store already? What are some other ideas you've tried?